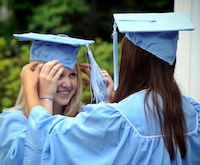 Exams are officially over and all final grades are due by this Friday, which means the Spring Semester is just about done! The Carolina community will be celebrating the accomplishments of all UNC Graduates this Sunday in Kenan Stadium at the Spring Commencement. Congratulations and best of luck to all the Graduates!
Here is a quick review of the Spring 2015 Semester!
(Click on each chart to enlarge)
Virtual Lab
Virtual Lab is one excellent resource all students should utilize! If you need to use software for class but don't want to pay for it, use it for free on Virtual Lab! Check out the top 10 applications in Virtual Lab for Spring 2015:
See all available Virtual Lab applications.
Virtual Lab Maintenance: Thursday May 7
Please plan for maintenance work on Virtual Lab from 6-8AM tomorrow, May 7. Connections to the website might be intermittent during this time. Thank you!

CCI Printing
Students have the convenience of printing at over 50 campus locations using their allocated funds with CCI Printing. See the breakdown of each non-residence hall campus location for the Spring 2015 Semester!
Sakai
Here is a review on Sakai usage for the Spring 2015 Semester. We had a total of 3,923 courses taught by 2,276 unique instructors on 3,081 published course sites–up 116 total courses from Spring 2014! There were also 2,251 project sites created this semester by request.
Sakai is great for communicating and assessing student work. Check out how many course sites enabled these collaborative tools this semester:
Groups: 3,146 | 97.34%
Communication: 2,933 | 90.75%
Discussion Boards: 785 | 24.29%
Gradebook: 1,535 | 47.49%
Assignments & Assessments: 1,168 | 36.14%
Here is the full Sakai tool usage for Spring 2015:
Want to learn more about the different tools in Sakai? Sign up for a personal consultation!
Sakai 10 Upgrade Outage: Monday May 11

The Sakai 10 Upgrade is less than a week away, and we couldn't be more excited!
Please prepare for Sakai to be offline and inaccessible on Monday, May 11. We plan to take the system offline at 5AM and back up by 5PM.
We've got one more exciting new feature to announce in Sakai 10 before we officially upgrade. Stay tuned, and get ready for the upgrade on Monday!